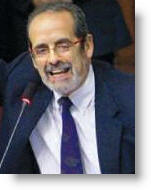 The flag flew at half staff yesterday at the Congress building in downtown Lima as hundreds of people followed the funeral of Javier Diez-Canseco, 65, an iconic socialist leader elected seven times to Congress and whose life has been eulogized this week by leaders from across the political spectrum.
Born to privilege, Diez-Canseco contracted polio when he was a year old. He was strongly supported and encouraged by his parents, but it was his right leg in a brace that, he said, allowed him to see his inner world from the outside, to understand what it meant to be excluded.
Throughout his political career he fought tirelessly for human rights and against corruption, and in this legislature successfully led the vote to enact a law protecting the rights of the disabled and sexual minorities.
He led the congressional commission that carried out the most comprehensive forensic and financial investigation into the Fujimori Montesinos regime, and was a clear leader in the extraordinary political coalition of people from both ends of the political spectrum who opposed that regime and led into Valentin Paniagua's transition government and Alejandro Toledo's administration. Many other investigations he led in Congress also led to court cases and convictions, including in the 1980s BCCI banking corruption case.
In 2001, following the transition government, he was invited to be a congressional candidate for Union por el Peru, founded by former UN Secretary General Javier Perez de Cuellar.
"Radical and decent," says the Human Rights Coordinator, Rocio Silva Santisteban. Historian and sociologist Nelson Manrique describes him as "a true man, with integrity, and congruent to the end." Free-market presidential candidate Pedro Pablo Kuzcynski said on his Facebook account that "Diez-Canseco's family should be proud of a man who gave his life to the service of his country." Ex-President Toledo said he was "a man of integrity who throughout his life fought against injustice."
His refusal to bend to pressure or seek unorthodox 'arrangements' led Diez-Canseco to face serious threats on numerous occasions.
He was deported during the military regime of the 1970s, and in the 1990s during the Fujimori administration his house was robbed several times and also bombed, and his car machine-gunned (the attacks were initially said to be by Shining Path but a national intelligence agent later admitted that national intelligence agents had planted the bomb in reprisal for a congressional report on telephone espionage). There was also a kidnap attempt against his children.
In 2011, he was re-elected to Congress as a member of the Gana Peru coalition of center-left and left-wing parties backing President Ollanta Humala, but last year he distanced himself, in protest of what he perceived to be a change of direction from Humala's campaign promises.
In November last year, a majority vote —by members of the Fujimori party and Humala's governing Gana Peru, including the unusual presence of Cabinet minister Ana Jara and Vice-President Marisol Espinoza — suspended Diez-Canseco from Congress for 90 days on charges of a breach of ethics because he presented a bill that supposedly would favor his ex-wife and his daughter's stock in Backus. The bill, No.054/2011, proposed a protection of common shares and the proportion in nominal shares that would benefit shareholders in general.
The vote has been generally seen as political revenge, even by those who disagreed strongly with his politics.
Daniel Abugattas, the former president of Congress and a leading member of Gana Peru, was against the suspension. "I presented a bill that was textually the same as Javier Diez-Canseco's and I may possibly also have relatives with investment shares, so why was I not sanctioned as well? In fact, when they called Diez-Canseco to the Ethics Commission I told them to call me too and they didn't. I think a grave mistake has been committed….."
The initial investigation by the Congressional Ethics Committee found no reason for the complaint against Diez-Canseco, but this was reversed in a second committee vote, and after the suspension, in April, Diez-Canseco's appeal to the courts was accepted and the court ruled that there were no grounds for the accusation against him.
Congress has refused to accept the court ruling to review the case.
Diez-Canseco, in an interview with Radio Ideele in November last year, said he believed the "operation" against him had been led by the First Lady, Nadine Heredia, in reprisal for his firm campaign against granting President Fujimori a presidential pardon and to changing legislation that would then allow Heredia be a presidential candidate in 2016 (current legislation does not allow the spouse of an incumbent to seek election).
"There were political pressures, telephone calls, orders," Diez- Canseco said.
In February this year, as the suspension ended, Diez-Canseco was diagnosed with pancreatic cancer. He died on May 4, at the age of 65.
Senior left-wing politician Henry Pease, at the wake, said the suspension had made his "blood boil", a sentiment echoed by many intellectuals and politicians who also agreed with the family's funeral arrangements.
Following the express wishes of Diez-Canseco himself and his family, the wake was held in the speaker's hall at San Marcos University rather than in Congress. The members of Congress who voted to suspend him were not allowed to pay their respects at the wake, and a floral wreath sent by the president of Congress, Victor Isla of Gana Peru, was returned. The huge funeral procession carried the casket to the Plaza Bolivar, outside Congress, and then to the CGTP union headquarters on Plaza Dos de Mayo and the Socialist Party headquarters on Plaza Bolognesi.
Diez-Canseco's ashes have been buried at the family mausoleum in the historical 19th century Presbítero Maestro cemetery.
In an interview with the La Mula blog several months ago, Diez-Canseco said Peru "is a country full of exclusions and excluded. It is a country that has little tolerance for what is different." He also believed that one of the fundamental problems that need to be resolved is "the hypocrisy and cynicism", which are the basis for corruption and people's disbelief in politics.
"This hypocricy and cynicism gets worse when people rise to power. In Congress you become "doctor", "engineer", you are treated differently and that creates a form of relationship that distances you hugely from the people and from reality…. Power encapsulates," he said.